Eesti Erinoorsootöö Ühing noOR is an EVS organisation in Estonia and coordinates over 20 EVS services in Tallinn and smaller places across Estonia. 
We are currently looking for volunteers for following EVS services: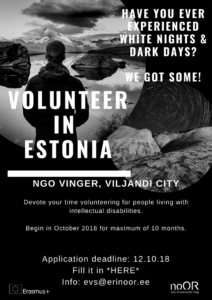 NB! Only applicants who properly fill in and send EVS Form (find it at the end of this page) will be considered in the selection process. In case of questions feel free to write:
APPLICATION PROCESS


In order to apply for any of the above EVS services please follow these steps:
2. We already believe that you are an interesting person but please reply with more than one sentence because then we will know it for sure!
3. Keep in mind which service you apply for and answer according to the service.
4. If you are interested in several services fill in separate forms for each of the services.
5. Add your sending organisation's contacts!