This year noOR and Tallinna Puuetega Inimeste Koda have the pleasure to host an EVS volunteer Abi from England. But more through her own words!
Who am I?
My name is Abi Corbett, I am 21 years old and I am from England. I am on a placement year from my degree at the University of Bath where I am studying for a Bachelor of Science in Politics and International Relations.
Why volunteering?
I wanted to be a volunteer as it is important for me to do something good and helpful. Volunteering is also an opportunity for self-development and will hopefully give me a better idea of what I would like to do once I graduate from university. It seemed like a good way to gain some experience in a professional environment whilst also contributing towards a meaningful project.
Why Estonia and noOR?
I came across noOR and Estonia when I was researching online for overseas volunteering opportunities. I had never been to Estonia before and wanted to experience a new country and culture. Tallinn seemed like the perfect fit for me and noOR were really helpful with helping me to set everything up.
What are you currently doing at noOR?
I am currently attending noOR's Screen Printing Workshops and hopefully in the new year I will be able to get involved with more of noOR's work. For example, we have been talking about me giving workshops in schools to raise awareness for disabilities and to hopefully address some of the stereotypes amongst young people surrounding them. Most of my time is currently spent volunteering with Tallinn City's Board of Disabled People (TPIK) where I teach English, French and provide assistance with any other activities and events.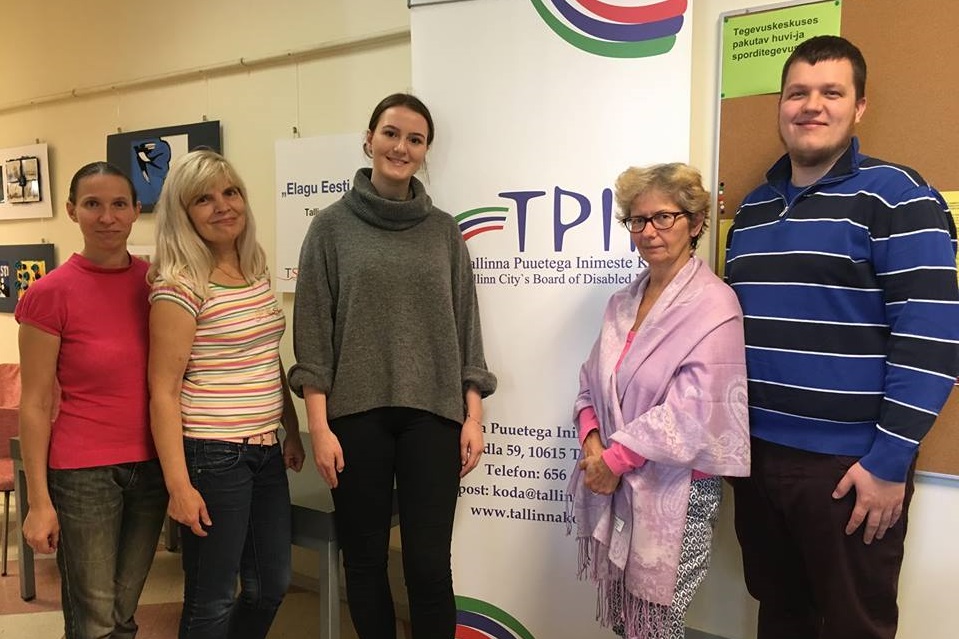 What are your first impressions of the volunteering experience so far? What has been surprising for you?
My first impressions of the volunteering experience so far are really positive. I love being a volunteer and feeling like I am doing something positive with my life. I have been surprised by how much I have been able to learn, particularly in terms of skills. The experience has pushed me outside of my comfort zone which has encouraged the development of my confidence to speak in front of groups of people. But I have also learnt a lot about more specific topics, for example I attended a meeting with the European Association of Service Providers for Persons with Disabilities where I was able to develop a knowledge of the state of disability services in Estonia.
What is it that you would like to definitely experience, do and learn during your EVS volunteering period here?
I want to make the most of my year as an EVS volunteer and therefore I would like to take all the opportunities given tome by both noOR and TPIK and really immerse myself in the organisations.However outside of volunteering, I want to take advantage of the opportunity to live in a new country by making the effort to explore Estonia, both literally and culturally. I would like to do this my making an effort to try to learn the Estonian language, visiting more of the country and learning more about the history and culture of Estonia.
What are the challenges of volunteering? Benefits?
The biggest benefit of volunteering for me has been working with really amazing people. I have been able to build a relationship with the people that I teach in my classes and that I meet through the activities which makes coming to work really enjoyable and rewarding. The biggest challenge of volunteering relates to the language barrier as I am notable to speak Estonian. It can sometimes be difficult to feel useful when you are not able to talk to people in their home language but it is really rewarding when I am able to communicate with people despite this.